''Are you sure they're safe to eat?'' My mum looked at me, sceptically, then down at the package of fresh mussels I was holding. ''I've heard so many stories...'' Not to worry, I assured her; these babies would be safe to eat, as long as I stuck to the Golden Rule. ''The what?'' she replied, perplexed, raising her left eyebrow ever so slightly (ah mothers...) The Golden Rule, I informed her, is the idiot's guide to making mussels safe to eat. It's all very simple. Before you begin cooking the mussels, throw away all open mussels. And after you've done cooking them, throw away all the closed mussels. If you follow that rule, there is no need for an ambulance; they're safe to eat and you won't get sick.
We're still en route through the Breton saga, but writing so much about food has made me hungry. What do you think? I think it's time for a recipe. These mussels with chips are the kind of food that fills you up, warms your heart, whilst

still being light enough for summer. It's the summer version of comfort food, if you will. And.... they're wickedly easy to make – ten minute maximum and you're good to go. So there's absolutely no excuse to not make them. Now show me you can flex those mussels!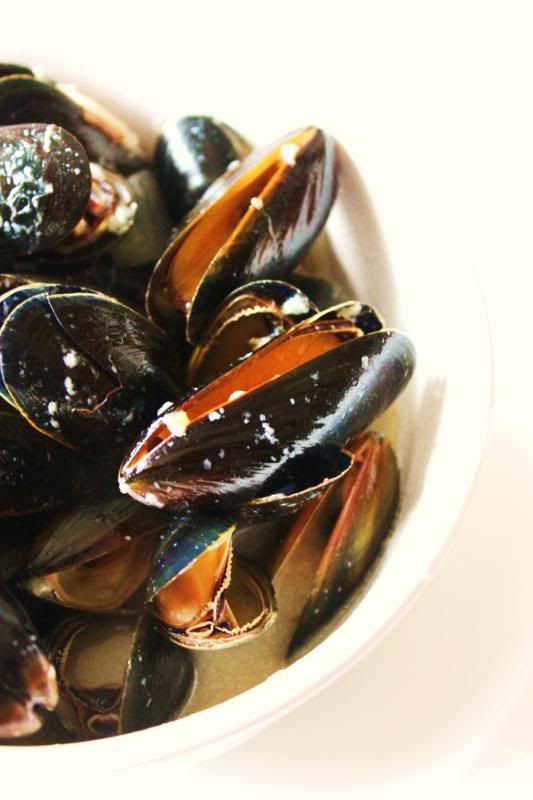 5 cloves of garlic, minced
250 ml white wine, preferably French
120 ml whole milk or cream
In a sauté-pan, warm the olive oil and add the chopped onions and minced garlic. Flavour them with salt and pepper. This should take about three minutes. Once the vegetables are see-through and limp, add the mussels and white wine. Cover the sautépan and allow the mussels to bath in the wine until they're all open, about five minutes. Voilà!
Recipe by Dutch and Belgian Food & Cooking

1 kg. maincrop potatoes (I use French Amandine)
Vegetable oil, for frying
1.Peel the potatoes and cut them in 1-2 cm thick slices. Place them in a bowl of cold water to remove some of the starch and to keep them from turning brown. Half-fill a heavy pan with oil. Heat the oil to 160°C or until a cube of bread, added to the oil, turns golden in about 45 seconds. While the oil is heating, drain the potatoes and dry them in a clean cloth. This will prevent the oil from spitting when they are added.
2.Add the potatoes, in small batches, to the oil. Fry for 4-8 minutes, depending on the thickness and variety, shaking the pan occasionally. After this preliminary cooking, the fries should be cooked through, but not yet golden. Lift them out, shake off the excess oil, then spread them on a paper-lined sheet. Leave to cool slightly.
3.Reheat the oil, this time to 180°C. Return the par-cooked potatoes to the oil in small batches and fry for 4 minutes until golden and crisp.
I don't have much patience, especially when I'm hungry, so I didn't bother with the second cooking.